Moti­ves for an IPO — One of the pri­ma­ry pro­blems of Ger­man SMEs is insuf­fi­ci­ent equi­ty capi­ta­liza­ti­on. Alt­hough an IPO (also known as going public) is an excel­lent way of rai­sing equi­ty capi­tal, SMEs are reluc­tant to take advan­ta­ge of it. In addi­ti­on to the lack of infor­ma­ti­on about an IPO, ano­ther reason is the pre­do­mi­nan­ce of fami­ly-owned or owner-mana­ged com­pa­nies among SMEs. Such com­pa­nies find it dif­fi­cult to include a lar­ge num­ber of new share­hol­ders in the pre­vious (rather clo­sed) cir­cle of owners, to publish infor­ma­ti­on on busi­ness deve­lo­p­ment on a regu­lar basis and to give exter­nal accoun­ta­bi­li­ty.
Despi­te the­se argu­ments, a num­ber of medi­um-sized com­pa­nies that are still fami­ly-owned are lis­ted on the stock exch­an­ge. Obvious­ly — as sur­veys of lis­ted com­pa­nies show — the aspects of an IPO that are per­cei­ved as nega­ti­ve are (cle­ar­ly) ove­re­sti­ma­ted. Of cour­se, the capi­tal increase for the IPO requi­res an expan­si­on of the cir­cle of share­hol­ders. Howe­ver, the influence of the for­mer owners on the com­pa­ny is not end­an­ge­red as long as they hold the majo­ri­ty of shares. On the con­tra­ry, streng­thening the equi­ty base ensu­res the con­ti­nui­ty and inde­pen­dence of the com­pa­ny for the pre­vious owners. The infor­ma­ti­on obli­ga­ti­ons ari­sing from the stock exch­an­ge lis­ting and the reac­tions of inves­tors reflec­ted in the share pri­ce deve­lo­p­ment repre­sent an effec­ti­ve cor­rec­ti­ve for a sus­tainable value-enhan­cing cor­po­ra­te poli­cy. And it is the for­mer owners who bene­fit most from this.
Irre­spec­ti­ve of this, the entre­pre­neu­ri­al aspects should be in the fore­ground when deci­ding on an IPO. The (signi­fi­cant) impro­ve­ment in the equi­ty base asso­cia­ted with an IPO streng­thens the company's abili­ty to adapt to chan­ging envi­ron­men­tal con­di­ti­ons. This is neces­sa­ry becau­se the majo­ri­ty of medi­um-sized com­pa­nies today are faced with the pro­blem that tech­no­lo­gi­cal leaps, shorter pro­duct life cycles or neces­sa­ry stra­te­gic invest­ments requi­re high finan­cial input. At the same time, SMEs can no lon­ger rely on exten­si­ve loan finan­cing from banks, as they used to, espe­ci­al­ly when their equi­ty capi­tal base is weak. As a result, equi­ty capi­ta­liza­ti­on and the abili­ty to rai­se equi­ty capi­tal are decisi­ve fac­tors in deter­mi­ning the com­pe­ti­ti­ve oppor­tu­ni­ties of com­pa­nies.
Growth finan­cing is by far the domi­nant argu­ment for an IPO. Nevert­hel­ess, an IPO is asso­cia­ted with a num­ber of other posi­ti­ve effects for the deve­lo­p­ment of the com­pa­ny and its owners:
Streng­thening of the equi­ty base
Inde­pen­dence of the com­pa­ny from the finan­cial power of the owner
Crea­ti­on of com­pa­ny risk-free pri­va­te assets through pla­ce­ment of shares of the for­mer owners
Safe­guar­ding the life's work "enter­pri­se", if the­re is no suc­ces­sor in the fami­ly
Impro­ve­ment of the repu­ta­ti­on and increase of the level of awa­re­ness with posi­ti­ve effects for the pro­ducts and ser­vices of the com­pa­ny
Increase in cre­dit­wort­hi­ness and thus the scope for cre­dit finan­cing
Grea­ter employ­er attrac­ti­ve­ness
The shares can be used as an acqui­si­ti­on cur­ren­cy due to its fun­gi­bi­li­ty and objec­ti­ve value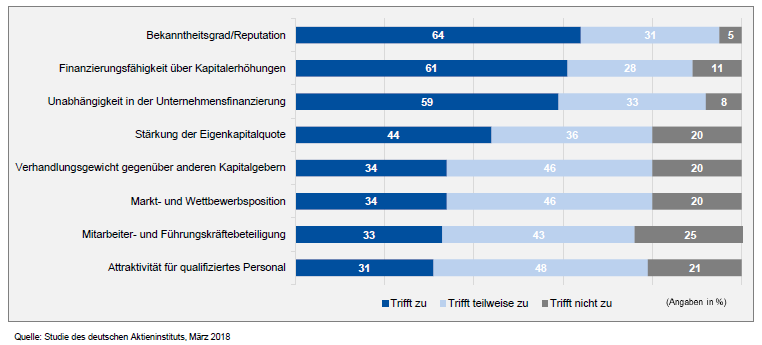 For more infor­ma­ti­on, plea­se order our free manage­ment rea­der "Suc­cessful on the Stock Exch­an­ge" at office@blaettchen.de.